The Mission
Arc Acres practices regenerative, sustainable agriculture.  Aiming to provide our community with delicious, nutrient-rich food while building better soil.
Arc Acres practices organic, biodynamic, and permaculture methods through a holistic approach. We aim to provide the highest quality food while regenerating a healthier ecosystem, creating fertile soil from the ground up!
Aiming to build a farm of many families!
The Farmer
Amber grew up among a family of many farmers. Her time running wild on the farm as a child was spent cultivating a garden, spending summers on her grandparents dairy farm in the hay fields and showing cattle in local agricultural clubs. While studying to become a nutritionist, she gained hands on horticultural experience, designing and applying practical landscape layouts throughout the Ottawa Valley. Taking an interest in forestry, she then headed north working long hour's tree planting in some of the most isolated regions of northern Ontario. Her passion for healthy food, natural healing and being a steward of the land, quickly turned a dream into a reality by combining all her favourite things and building her own business. In her late twenties she returned back to her 4th generation family farm to take her first steps to towards building the healthy, diverse, and ever evolving sustainable business she runs today. Her dedication and love for nature has caused her to never look back!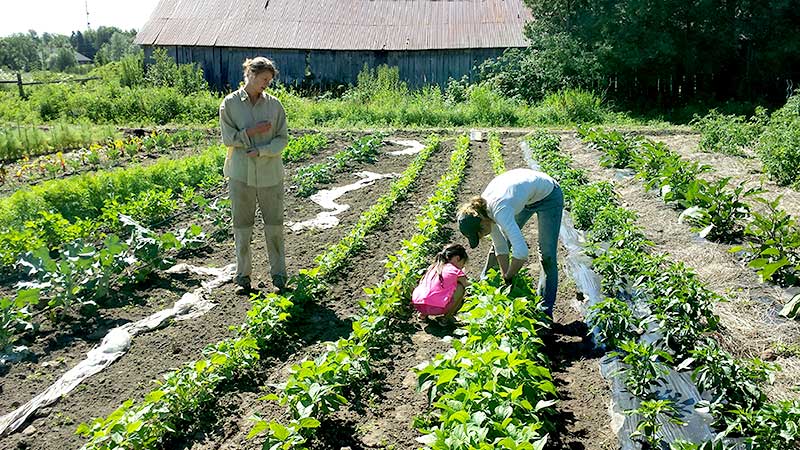 How to achieve nutrient rich food?
High quality compost, processed from our own cow manure, is applied annually to our soils.
Compost tea, fish emulsions, effective micro-organisms and liquid kelp are applied through foliar applications and are incorporated in our garden practices as food and life for the plants and soil.
Cover cropping, green manure, rock dusts and crop rotations are in practice.
Homeopathic preparations, row covers and companion planting for pest control and diseases pressure.
Carbon sequestering through using healthy living plants to transform sunlight into food and healthy soil through photosynthesis.
Mulching with different materials for long term energy storage for fungi and bacteria, prevent erosion, retain moisture for plants and keeping the roots cool and stress free in drought periods.
The animals help too!

Cattle are intensively, rotationally grazed which stimulates seed banks pre-existing in our soils that rejuvenates native grassland while cleaning aquifers that lay below.
The pigs aerate compost piles and stimulate soils while consuming grubs, bugs, roots and pasture shrubs.
The chickens rotate on garden soils and are in annual resting stages.  They decrease insect populations, transform living cover crops into juicy meat, and digest and leave their poop behind as next season's fertility.