FALL PICK-UP!
Order size options
Prices effective as of March 31, 2022
30 lb sampler
Sampler of 30 lbs assorted quality cuts
Designed to fit into a small freezer. Typical cuts include:
10-12 lbs lean ground beef
3 lbs stewing beef
5.5 lbs premium assorted steaks
2 pot roasts
1 package short ribs
1 bag of soup bones
Fits nicely in a milk crate.
Value= $365 ($100 deposit required)
Quarter beef
Quarter Beef – 90 lbs
Similar cuts to the 30 lb sampler portion
Value= $1,095 ($300 deposit required)
Half beef
Half Beef – 150 lbs
Similar cuts to the 30 lb sampler portion
Value= $1,825 ($500 deposit required)
Whole beef
Whole Beef – 300 lbs
Value= $3,650 ($1,000 deposit required)
Grass-fed Beef Ordering and Payment
To ensure your commitment, please send required deposit via eTransfer, personal cheque or cash. The remaining amount can be paid upon meat pick-up date.
Send an email notifying us that you would like to reserve your grass fed beef share. Please indicate what size share you would like and what pick up location you prefer.  The two choices are either the Ottawa Farmer's Market or Arc Acres in Manotick Station.
We accept email money transfers to ​[email protected] or you can send a cheque to Arc Acres or stop by for a visit at the Metcalfe Farmers Market.
Questions? Please call 647-612-3889
Arc Acres
1538 Manotick Station Road
Greely, Ontario K4P 1K4
Reserve your share!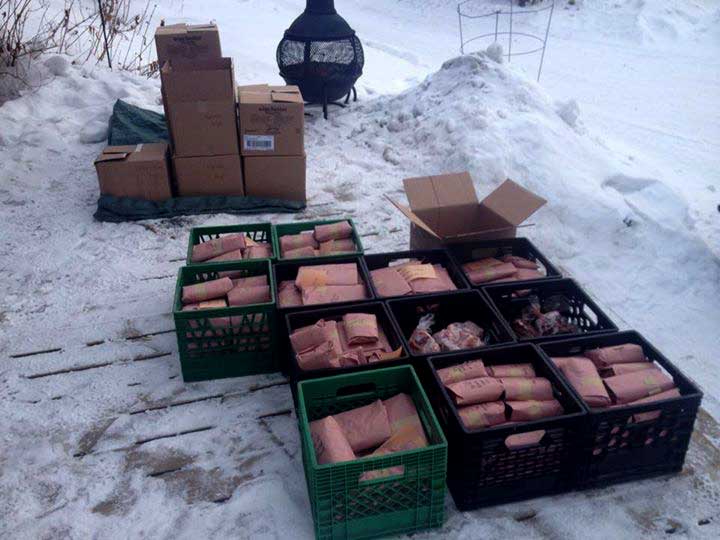 By reserving a share you are making a commitment with Arc Acres as your trusted farmer. High operation costs are spent at the beginning of the season. We purchase high quality local stock (cattle), rent the land, transport animals, repair and maintain fencing equipment, handling facilities, install any needed infrastructure and apply necessary earthworks to the landscape.
We host seasonal pick up dates on Saturdays in November at the farm in Manotick Station or at the Ottawa Farmer's Market. Your exact pick up date and time will be arranged one month prior to pick up.
Our animals are processed between the ages of 16-24 months old. They are taken to a local, federally inspected licensed abattoir, 20 minutes from the farm. The meat is aged for 14 days, prior to Greg's Quality Meats in Winchester taking care of all our butchering. The beef comes cut and packaged in good old fashioned brown butcher paper, stamped and frozen in crates. The beef will preserve in your freezer wonderfully over the coming year.
If you would like to try grass-fed beef by individual cuts, you can visit us at our two local farmer's markets:
Ottawa Farmer's Market
Sundays 8-3 (August – November)
or
Metcalfe Farmers Market
Saturday's 8-Noon (May – October)
Our Commitment
Arc Acres is committed to raising the highest quality, grass fed beef though holistic farming approaches! We aim to regenerate life back into our soils and water into our aquifers by practicing intensive rotational grazing techniques that benefit the land, cattle and community. Our breeds of cattle are designed for grass based beef production. Our cattle are moooooved every day to a fresh, lush piece of pasture. Our soils receive a minimum 60 day rejuvenation period, only to be massaged or pulsed again by their hooves leaving their meadow muffins behind! The cattle have unlimited access to high quality forages of diverse varieties, minerals including kelp, clean water, sunshine and fresh air, while growing at a natural pace.
By allowing cattle to be within their natural habitats, they are healthy animals. In return, we maintain healthy soil. This means you receive nutrient rich, lean, flavourful and well-marbled meat. It's lower in fat, cholesterol, and calorie content. It contains beta-carotene, vitamin C, zinc, iron, B12 and B6, increased levels of omega 3's, CLA (conjugated linoleic acid.) and vitamin E content.
Grass-fed beef cooking tips
It requires 30% less cooking time then grain finished meat. It will continue to cook when removed from the heat.
This beef is extremely low in fat. Its best prepared rare to medium rare. If you prefer your meat well-done, its best to cook your grass-fed beef at very low temperatures for a longer period of time in a sauce or oil to lock the moisture in.
Never use a fork to turn your beef, precious juices will be lost. Always use tongs.
Always pre-heat your oven, pan or grill before cooking grass-fed beef. Searing in the juices and letting it cook slowly works best!
Marinate your beef before cooking by using a favourite group of spices with oil, lemon, vinegar, wine or beer.
When preparing hamburgers on the grill, use caramelized onions or roasted peppers to add low fat moisture to the meat while cooking. Due to the lack of fat to hold the burger together, add an egg to the mix!
The Bones. There is an incredible amount of healing and health power in the soup bones. The longer that they are boiled down, the more nutrients are extracted into your broth or sauce. Forty-eight hours is optimum but an afternoon of simmering will do as well! If you don't make soup broth, place them in your spaghetti and chili sauces to add extra flavour and nutrients.